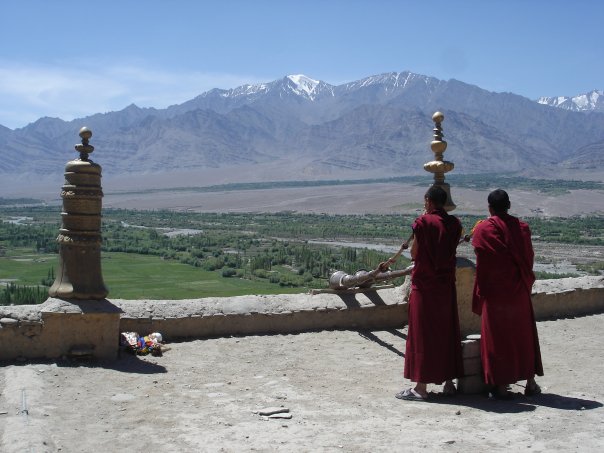 The road to Leh winds up over the Photu La. At 4,093m above sea-level this is one of the highest roads in the world and unsuitable for ordinary traffic. Everything is completely dry, with undulating barren landscape, deserted and with an occasional view of a distant green slope nestling towards the bottom of a deep gorge by a fast flowing river. Indeed, now we come across the Indus River on the start of its long journey to the sea.
It is here that we cross the actual divide between Islam and Buddhism. It is a relief to enter a valley where the prayer flags fly and road-side chimes abound. We arrive at the Lekir Monastry. At last, after so many years reading about Buddhist monasteries it is a joy to enter my first, to sit beside two elderly monks chatting in a quiet and distinguished manner and to come across the young novice monks eating their simple lunch in the midday heat.
We move on and drive another two hours and exhausted, after a total of ten hours in the car, we arrive at one of the oldest monasteries in Ladakh, Acchi Choskor, founded in the eleventh century. The Temple is beautifully decorated and there is a giant figure of Maitreya. The place is dark and imperious but I go to one of the smaller temples where I sit alone. This is a wonderful experience. One feels an overwhelming sense of calm sat barefoot on the wooden floor in the quiet darkness.