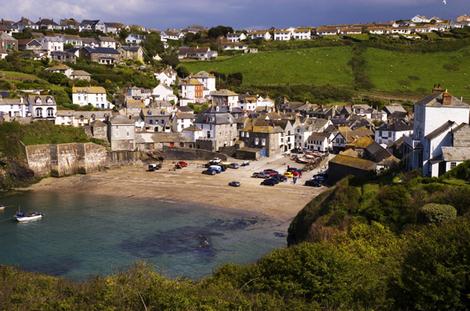 I walked for five hours along the coastal path between Port Isaac and Tintagel.
For all that time, though, William, our Border terrier, and me were going very slowly and stopping often no one passed us. I met only two couples and one man coming the other way. Here we were, alone, walking along in one of the most glorious spots in Britain.
To our left, an ocean of green, low stone walls, and to the right a great sea of aquamarine blue. The only sound the distant breaking waves below. The waves beyond breaking gently remorselessly. Sometimes we paced by green fields the ocean far far blow us. At other times we plunged down into steep gullies. The waves a short reach away. William drinking from the streams, enjoying their moments of fresh water delight.
Wonderful names. Tresungert Point. Rams Hole. St Illickswell. Gug Pigeon's Cove. Filly Horse. Ranie Point. To our right, lovely farmsteads, Tregaverne, Trewethars.
Port Isaac had been crammed with people, perhaps keen to see the home of 'Doc Martin' on ITV that night. What a winning formula for a t.v. show: Cornish tales and every two or three minutes a breathtaking view behind the characters of sky sea and cliff. But here on this pass we were quite alone.
The atheist will say this physical creation is all he needs. The Christian will welcome it as God's amazing creation. All can welcome it but for the atheist what is beyond that, where is his music, his art, his poetic verse?