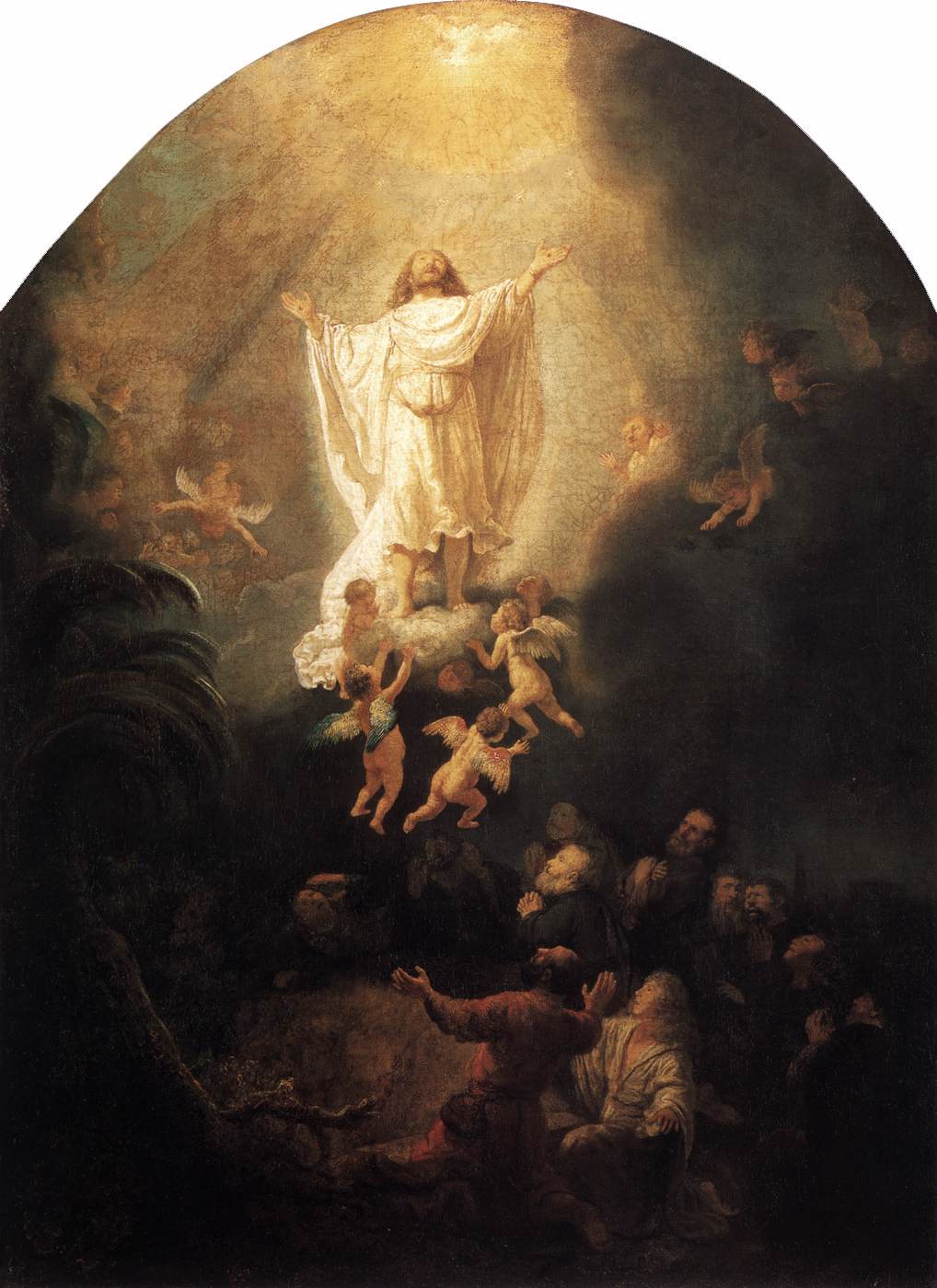 Ascension is about going but leaving a message. Better to think on those terms than Christ rising like a rocket which jars with modern sensibilities. After Mass at Stonyhurst chapel, I walked from Hurst Green for eight miles in a great circle up and over Longbridge Fell and back again. This countryside is glorious. You could be in Switzerland. Vast panoramas shade into woods fells rising high out of the green shaded valleys. The fells blooming, greying, vanishing into mist and rearing up into bright sunlight, far away the smudge of Blackburn. The rushing rivers of Hodder & Ribble, white ribbons, no great prairie fields of wheat and barley here. It is a countryside of gentle fields, crumbling stone walls, young lambs, ancient farmsteads, and the silence of great woods of conifer.
This is the countryside of Gerard Manley Hopkins and Tolkien. Is that the Ribble there or the Brandywine? The path really did seem to go ever on. After eight miles, I was exhausted. Without the dog even more so.
By Monday I was back in Market Rasen in our small weekday Mass. Our priest was telling us of his chicks he keeps in his garden and about how the mother hen covers them with her wing when alarmed by strangers. A delightful rural appreciation of today's Gospel:
"Listen, the tune will come. In fact it has come already when for will be scattered." [John 16]
On Tuesday I was late for Mass at the Oratory and too late to put aside a wafer for Holy Communion. Did I dare go to Communion? But leaving it so I was the last, there were still five to spare. There is always something of everything to spare.
On Wednesday I was asked to do the first reading. I don't like to put any emotion into readings in church but this text is so moving it speaks for itself:
"When he had finished speaking, he knelt down with them all and prayed. By now they were all in tears: they put their arms round Paul's neck and kissed him; What saddened them most was his saying they would never see his face again."
No time for Mass on Thursday only a long drive through traffic to Lincolnshire. Church was walking over the highest peak in Lincolnshire – a staggeringly high four-hundred feet! A great hot vast sky of blue ahead, the fields brightly yellow and poor William crushed by heat.
Saturday. I am reading Malcolm Brown's Imperial War Museum Book of the Somme. It is a very moving and balanced account and despite its awfulness we shouldn't doubt that many or perhaps most who fought in it felt they were doing the necessary and right thing. But there is a sad chapter about two brothers killed – Willie and Percy Robins. Willie killed age 21 and Percy only 19. Their distraught parents bound together a little memoir of their letters home. This is the true awfulness of war: those that are left behind.