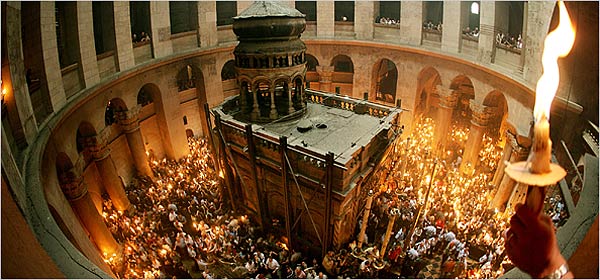 I arrived in Jerusalem after an eleven-hour journey. Because it is Shabat, the Israelis have closed the Allenby Bridge. I did a huge roundabout detour to the Northern Crossing where the Israeli guards are surly. Why do they want to know my grandfather's name? Then a hugely expensive rip-off taxi to Jerusalem: no buses. I looked around and made my way into the crowded streets, found by chance the Via Dolorosa and walked up it.
But how moving to arrive at the Church of the Holy Sepulchre. One ducks down into the very chapel in which the Resurrection is said to have taken place and remains as long as one can, or dares. There are long queues waiting.
I am visiting the Order of Malta Hospital of the Holy Family in Bethlehem. How humiliating it is for the Palestinians to cross this large internal frontier. It reminds me most of the Berlin Wall which I crossed thirty years ago. It is thought that most Palestinians are not allowed to cross – this is so troubling. They are prisoners in their own country. I am pro-Israel and its right to exist but not this contentious theft of land. And when you oppress, you in turn become oppressed.