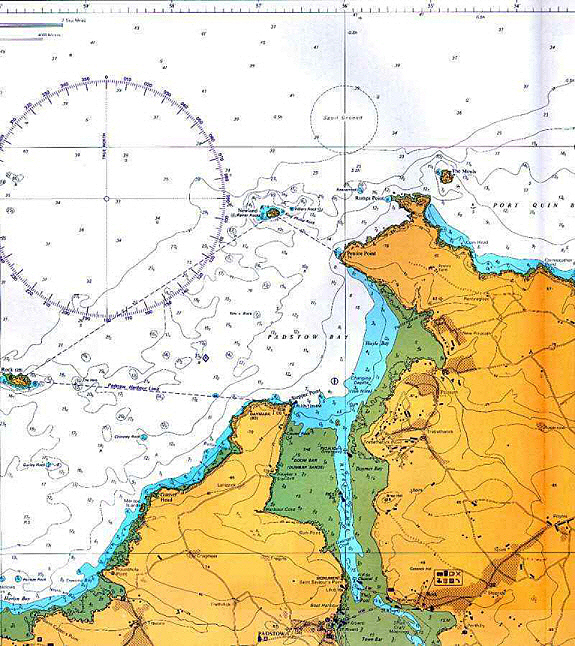 SUNDAY
Another long train journey, this time quieter, and then Mass in the Cathedral.
MONDAY
Feast of St Padre Pio
I went to Mass in the Abbey. What did Padre Pio have? He died a few days after the fiftieth anniversary of his stigmata. Were they real? Did he imagine them and they appeared? What sort of man was he?
It was a glorious September day and we walked to Pentire Point.
We saw what you rarely see in England: the sun at 7.18 dipped right into the sea, no haze. Before doing so the sea became a brilliant speckled gold.
TUESDAY
This was a glorious September day of mist and sun and cloud.
"Like flowing water is the heart of the King in the hand of the Lord. Who turns it where he pleases."
The water surges indeed where it pleases, crowing out the rocks round Polzeath but in Daymer Bay it is quiet. So quiet the water creeps up to the hills almost by stealth. Walking back from Rock there was not a moment to lose. We hitch up trousers and wade round the rocks and into safety.
WEDNESDAY
A long walk from Padstow round the point to Trevone Head and back to Padstow. Some rain and the sea calm way below. The tide so low in Padstow Bay that one can see the water rippling over the "Doom Bar", the sandbank that has wrecked so many sailing ships desperately seeking shelter in a storm.
The 25th September it is our 29th wedding anniversary, a shelter in a storm.
"Two things I beg of you. Do not grudge me them before I die. Keep falsehood and lies from me. Give me neither poverty nor riches." (Proverbs)
THURSDAY
"Southward goes the wind, then turns to the north: it turns and turns again, back to its circling goes the wind." (Ecclesiastes 1:2)
For a time upon the coastal path I was alone. No one visible as the path wound its way to the summit, below only the sea, the waves gentle swelling before a crashing view, the sun appearing and disappearing, the wind coming and turning.
FRIDAY
I was reading one of my son's school books – a simple introduction to Christianity. It said something like, "We believe that Christ rose from the dead, it follows that we too can rise from the dead if He did."
So simply put, but it struck a chord and a belief stirred. If I now believe that Christ rose from the dead, then it follows that, after all, amazing there might be life after death.
SATURDAY
As usual, or as often happens, I was saying the Rosary in the middle of the night. I came to the Mysteries of Light and the raising of Lazarus. I saw in my mind's eye the picture of the scene in the Abbey and now in my mind's eye I saw an enfolding light spreading into the darkness…