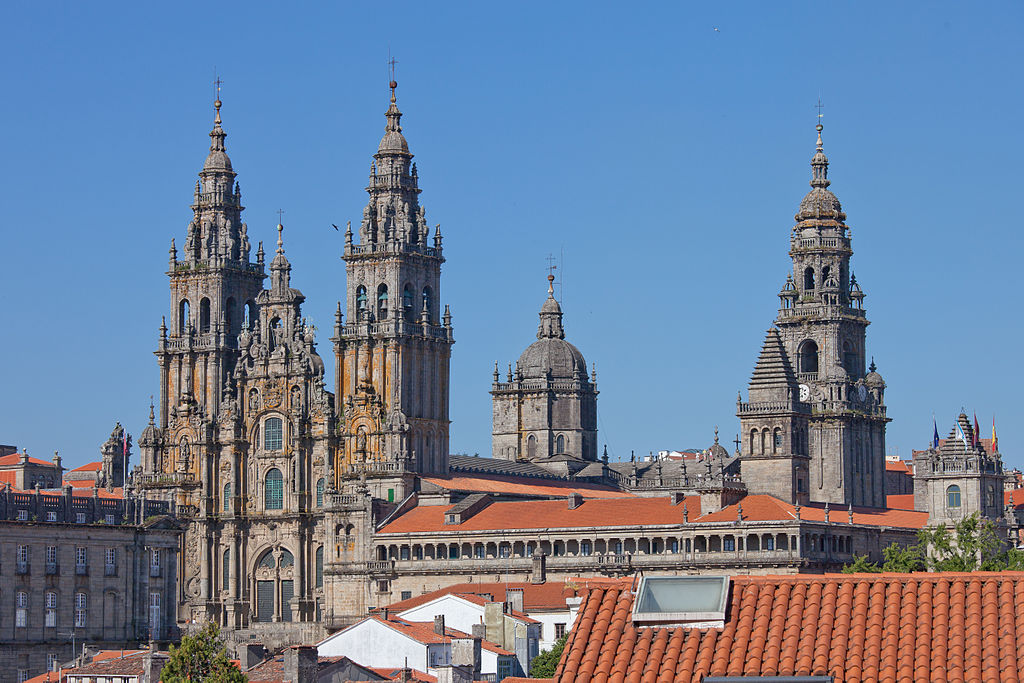 SUNDAY, SIXTEENTH WEEK
My sixty-fourth birthday. I was on my way to join my son and his cousin who were doing the Camino de Santiago.
They had already done 700 kilometres. I was going to do the last 100 with them, having done the first 100 a few years ago. Perhaps I'll do the middle bit sometime.
I arrived in Sarria, 118 kilometres from the end. My son had walked 40k that day alone.
MONDAY
We set off at dawn-ish. Like a great conflux of rivers a tide of humanity seemed to carry us forward, all trying to get to Santiago de Compostela before St. James' feast day on the 25th July. By 2 and 20k only the heat had wiped me out. As one plods on thoughts, even prayers, seem to vanish. The world revolves around the path. We made it to just short of Portmarrin.
TUESDAY
Perhaps we stopped too soon. Perhaps we would not make St. James' Day now. No mass in these out-of-the-way places but restful moment watching a priest give a great Eucharist to one pilgrim, framed by the evening light of the green fields of Galicia.
You stay in hostels in dormitories and people start banging about to leave at 5am in the pitch dark. Thus far they are bizarrely on Central European Time and it doesn't get light until 7am.
The boys say now that they want to do a final great push to get there by the evening of the 24th.
WEDNESDAY
We spend the night at Melide. Once again the heat has finished me by 4. But the boys make a great pasta dish in the hostel and by great good fortune we have a room to ourselves.
There is an evening Mass. In these country Spanish churches there are the most amazing statues, almost living in their depiction of the bleeding wounds of the dead Christ. The effect of the long walk and singing is overwhelming.
THURSDAY
The boys have left at 4.30am for their great 60k final walk. I am too lonely on my own so I also get up and set off in the pitch dark. I have no torch and stumble on the broken path. I have no way of seeing the yellow signs but some kind Italians take me in hand. I follow in their wake at a great pace, for me, for an hour behind their kindly light.
The dawn happens imperceptibly in these woods. A great mist hangs over the land and seems empty save the pilgrims plodding on.
The convoy principle has not applied to our pilgrimage, the tough get going and the weak get left behind for the U-boats. In my case a Spanish white van driver travelling at 60 mph in what for me is the wrong side of the road but I plod on. I am now determined to get there by the pilgrims mass on the 25th.
I arrive at 7pm in Arca, only 20km short of Santiago. The 36k has taken 15 hours – a snail's pace. But with great joy I get there in time for the evening mass. It is packed with pilgrims weary but happy near the end of their quest. The priest asks us to call out where we have come from; from Mexico, from France and Spain and Germany, they call out.
FRIDAY: THE FEAST OF ST JAMES
I set out but 20k in five hours is a big ask so I pile on and get to the Cathedral as the bells strike noon. The boys have made it, camping out in the packed city in their tent.
The doors are tightly closed and a huge queue stands proudly in front of them. Is this it? But they do open and we went in.
At the end of mass the giant incense holder – the "botafumeiro" – smoking box is swung above our heads, achieving a dizzying speed of up to 80kph it is said. It is only swung on feast days. We have made it.
SATURDAY
We go to the pilgrim office with our credencial (pilgrim passport to get our compostela). It is a bit unfair that I get the same as the boys for having walked a measly 118k as them for having 774k but I suppose there are always vineyards and late employed workers and all that.
We queue up in the Cathedral to climb the narrow steps behind the high altar to hug the apostle and see his casket in the crypt. Is it him? Who knows, does it matter?
Tens of thousands have certainly believed it for over a thousand years.
Of course, the real camino is the way the medievals do it, you walk out of your front door in England, France, or Germany and trudge the whole way there and back, probably racked by disease and dysentery and poverty.
We can never obtain their faith. For us this is an act of faith rather than a belief in a reality. But one can only belief in what one can.
Do I believe St. James' body was taken in a stone boat miraculously after his martyrdom in Jerusalem in around AD 44 to the most westerly top of Europe? No, I probably don't. But do I believe that when you kneel in front of his casket under the high altar you a feel profound emotion. Yes, I do, because I have felt it.