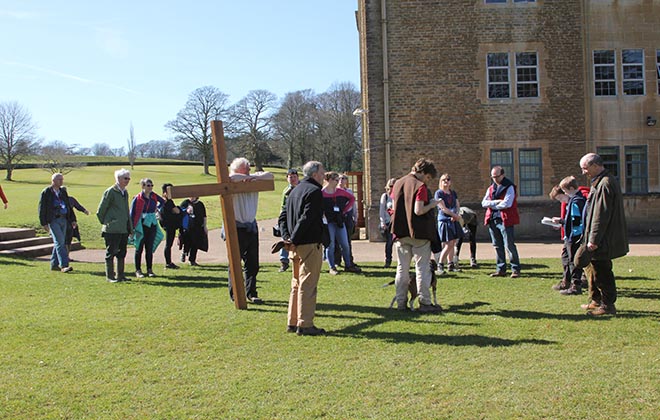 PALM SUNDAY
Amid all the pomp and great music of Palm Sunday in the Cathedral with the Cardinal one phrase stands forth and lodges in my mind. It seems to sum up my doubts and hopes.
"Joseph… came from Arimathea and he lived in the hope of seeing the Kingdom of God." (Luke)
MONDAY
I ask the Prime Minister about his position on Turkey's accession to the European Union. He is in favour. Do we want 79 million Turks having the right to come live here?
This week we continue with the readings from Isaiah 42:
"He does not break the crushed reed, nor quench the wavering flame."
TUESDAY
Chairing Westminster Hall I join the tributes to those slain at Brussels that morning. We still do not have the courage to name and shame radical Islam which is not just a tiny criminal gang. There are hundreds of thousands who feed on violent excerpts from the Koran. Muslims in the West must be convinced to integrate and accept.
Isaiah 48:
"Islands, listen to me, pay attention, distant peoples. The Lord called me before I was before I was born. From my mother's womb he pronounced my name. He made my mouth a sharp sound. And hid me in the shadow of his hand. He made me into a sharpened arrow, and concealed me in his quiver."
Even writing this poetry is soothing and a relief from the violence of the world.
WEDNESDAY
I ask the Home Secretary if she will search all cars and lorries coming across the Channel – "our bulwark" – and check all passports against intelligence sources. She brushes me aside saying I have "misunderstood". Yet the next day the Times reports that only half the lorries are being searched.
I travel to St Olave's with Mary in the car for their Holy Week service – simple Anglican and nice – then rush back for a Vote Leave photo.
"For my part I make no resistance, neither did I turn away. I offered my back to those who struck me, my cheeks to those who tore at my beard. I did not cover my face against insult and spittle." (Isaiah 50)
MAUNDY THURSDAY
We drive down to Downside with lunch on the way. It is lovely to look forward to this best of weekends which each year passes all too quietly. The same unchanging routine liturgy and my room at the top of Roberts House. And this day the Mass of the Lord's Supper with the hymn at the end as we process up to the flower-strewn Lady Chapel. Ben attempts to walk across Salisbury Plain from Shrewton and Mary arrives back exhausted having picked him up from the rain.
"It was before the festival of the Passover and Jesus knew that the hour had come for him to pass from this world to the Father." (John 13)
GOOD FRIDAY
A Cross Walk from wells to Downside across golden countryside in bright warm sunlight, no need to wear a Barbour. We walk for four hours, arriving happy and exhausted, fourteen stations and a fish-and-chip lunch. I can barely stand for the Passion and intercessions yet tea and silent prayer with Father Christopher revive the drooping spirit.
I get more into "Maranatha". It is the last sentence of the Apocalypse – Come Jesus Christ, which Father Anselm tells us is bad Greek. The extra two words, Jesus Christ, make this silent prayer more about awaiting.
Father Anselm, Leo, and Boniface sing the Passion. Leo's voice is full of tired dignity and resignation.
"Jesus said 'Who are you looking for?' They answered, 'Jesus the Nazarene'. He said, 'I am He.'"
Not surprising. He had echoed God's words: I am He.
HOLY SATURDAY
Mr Walters does a workshop on the Year of Mercy. An interesting philosophical point which I put: God has affective not effective emotion. Being God he is not emotional so Jesus if God cannot feel emotion, but as Man can. Is that why God has to become man? We have a library tour and the librarian opens up an original edition of Thomas More.
After all this and a swim I am tired as always for the Vigil, especially as it finished at 1am. The clocks are going forward but revived by the Psalmist:
"As the deer yearns for the running stream, so my soul yearns for thee my God."