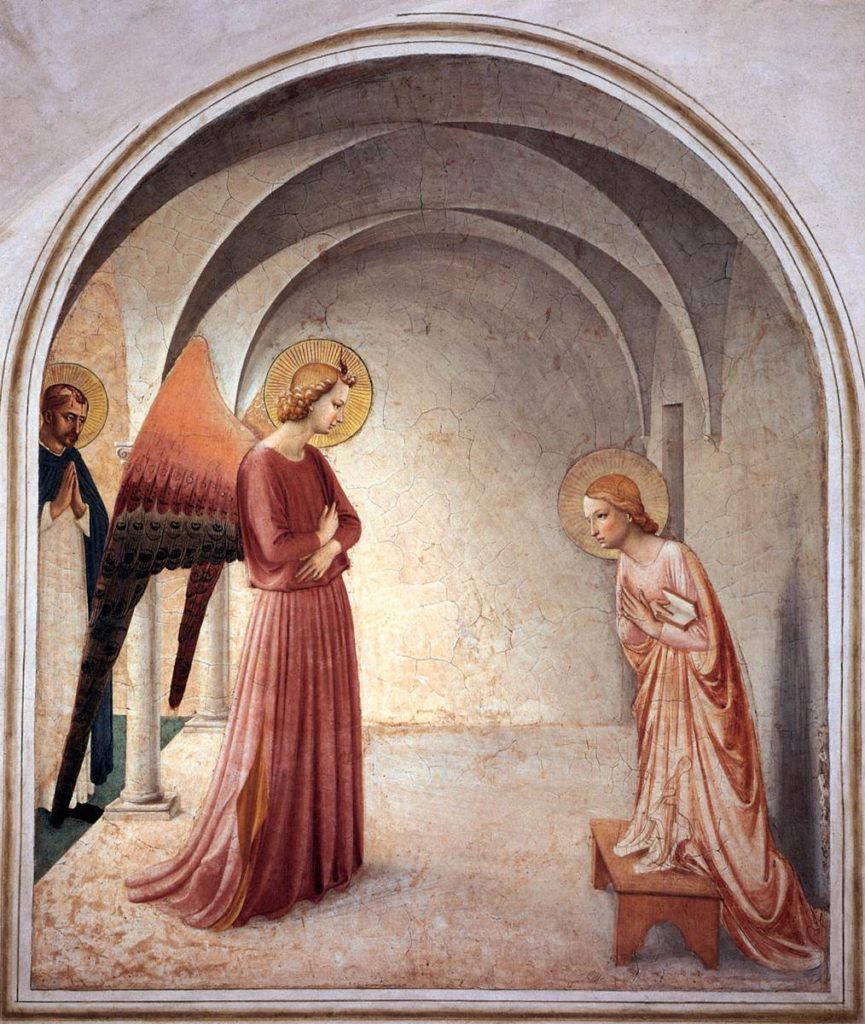 ANGELICO, Annunciation (1440-42), Fresco, Convento di San Marco, Florence
SUNDAY 19th March – Third Sunday in Lent
We have a rare Tridentine Mass in the Osgodby Chapel, the same mass that was said here since it was built in 1793. A moving and beautiful experience.
John 4
"whoever drinks this water will get thirsty again…"
MONDAY 20th March – St Joseph
We are in London, waiting for the baby.
It is a good day to think of St Joseph, one of the most famous people in history who did nothing more than marry and stay faithful.
Entrance Antiphon
"Behold a faithful and prudent steward whom the Lord set over his household".
TUESDAY 21st March
I ask a Health Question about the need for a new medical centre at Lincoln so we can encourage more GPs to train and work in Lincolnshire.
We little know what is going to happen to us: disaster or death may strike at any moment.
"Peter went up to Jesus and said, Lord how often must I forgive my brother if he wrongs me? As many as seven times? Jesus answered, not seven I tell you but seventy-seven times"
Matthew 18:21.
WEDNESDAY 22nd March
At 5am we have a new baby in the family. I have a PMQ and I ask the Prime Minister about the 'symbolism' of the Palace of Westminster.
Two and a half hours later, I am sitting in the Procedure Committee and all hell breaks out – we are being attacked. Armed gunmen round us up and we spend three hours sheltering in Westminster Abbey with a thousand other people. I wonder around for the first time ever and read all the amazing messages on the countless tombs.
Finally let out, I make my way to see our first grandchild – a beautiful little girl.
A day unlikely to be forgotten.
I wonder if it would have made a difference if someone sometime had told the attacker: "There is only one God and he is peace".
Today's entrance antiphon
"Let my steps be guided by your promise, may evil never rule me".
THURSDAY 23rd March
The PM makes a statement.
I deliberately make reference to the fact that after the wartime destruction of the chamber, Mr Churchill and Mr Atlee refused to move out. I say 'it is values that unite our nation … we will not be moved from our place or our values'.
I put it to the Leader of the Commons later that this is hardly the moment to disperse MPs and Peers all over Parliament Square.
Jeremiah 7:23-28
"… but they did not listen, they followed the dictates of their own evil hearts, refused to face me and turned their backs on me".
FRIDAY 24th March
I take the train up to Lincolnshire for a surgery and our AGM. There are two topics of conversation: Brexit and terrorism.
I go for a walk when I get home. The church is open and I read Psalm 122
"I rejoiced with those who said to me 'let us go to the House of the Lord'".
SATURDAY 25th March – the Annunciation
It is the first beautiful, hot day in Lincolnshire.
I take Monty for two long walks, read Psalm 123 in our village church and in the evening we drive back to London for the grandchild.
Psalm 123
"I lift up my eyes to you … to you who sit enthroned in heaven".