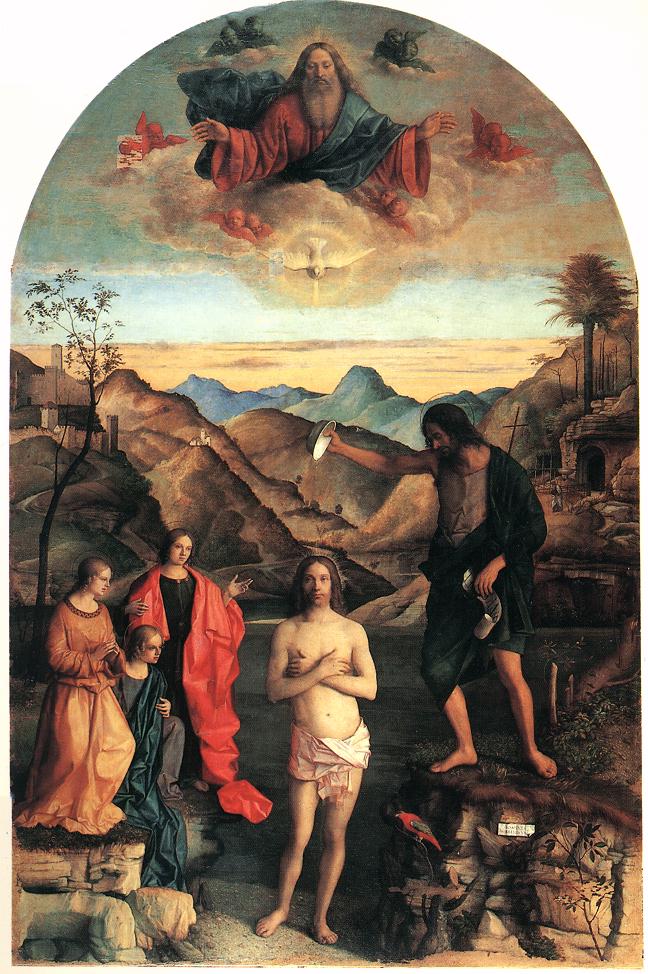 BELLINI, Baptism of Christ (1500-02), Oil on canvas, Santa Corona, Vicenza
SUNDAY 2nd April – Fifth Sunday in Lent
"… your interests, however, are not in the unspiritual but in the spiritual"
Romans 8:8-11.
MONDAY 3rd April
I go to the Baptism site on the River Jordan.
It is hot. I cool my feet in the narrow river. You could walk across it in less than a minute except the Israeli border guard hovering in the distance might shoot you. How tragic that this lovely, deeply historical place should be an armed border.
We say a little prayer and think on the words in Matthew 3:13-17.
"As soon as Jesus was baptised, he went up out of the water. At that moment heaven opened and he saw the Spirit of God descending like a dove and alighting on him. And a voice came from heaven, 'This is my Son, whom I love; with him I am well pleased'".
TUESDAY 4th April – St Isidore
I fly back from Jordan.
By 5.30 I am at Mass in the Cathedral.
My trip is quicker than the Israelites journey from the same place:
"The Israelites left Mount Hor by the road to the Sea of Suph, to skirt the land of Edom. On the way the people lost patience. They spoke against God and against Moses, 'Why did you bring us out of Egypt to die in this wilderness?'".
Numbers 21:4-9.
Certainly when you look down from Mount Nebo you look at a vast, burning, sandy wilderness but after twilight you can see the lights of Jerusalem. From the Baptism site it is only 28 kilometres, you could drive it in a couple of hours – except you cannot. Modern 'rational' men have closed the border.
When last I did the journey it took me all day.
WEDNESDAY 5th April
"I can see four men walking about freely in the heart of the fire without coming to any harm"
Daniel 3:14-20.
I love this picture of men walking around in the heart of a fire – it beggars belief.
THURSDAY 6th April
We drove to Lincolnshire.
Another warm day so I visit Chelsea Physic Garden. A place like this is timeless.
"I tell you most solemnly, before Abraham ever was I am"
John 8: 51-59.
FRIDAY 7th April
The weather is glorious in Lincolnshire. It is a day of surgeries.
Psalm 17
"My God is a rock in whom I take refuge".
SATURDAY 8th April
I spend all afternoon by the lake fishing. Only one bite and it gets away.
Here you are truly in the countryside. The light first glistening on the water, then descending in an orange glow.
We are there hours but the time passes on rather swiftly.
The responsorial Psalm
"The Lord will guard us as a shepherd guards his flock"
Jeremiah 31:10-15.