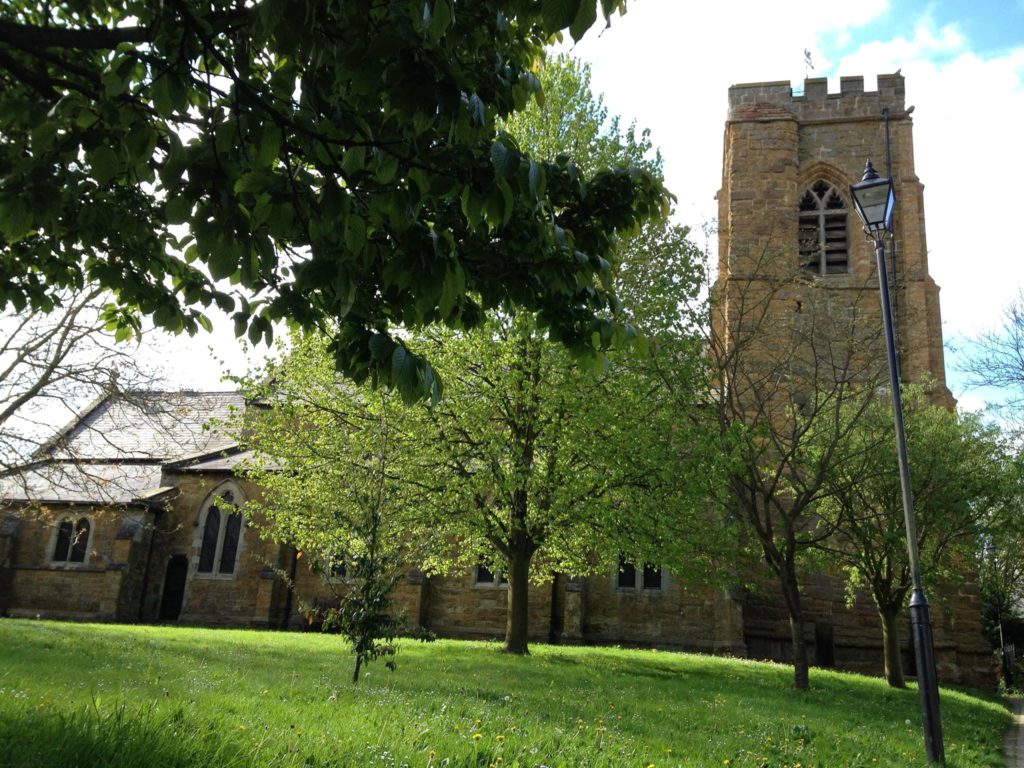 St Thomas' church, Market Rasen
SUNDAY 30th April – Third Sunday of Easter
Our church is closed for woodworm treatment so we use the Anglican church of St Thomas in Market Rasen for our 11.30am Mass. Our priest sings the Gloria, Kyrie, Sanctus, Angus Dei and Pater Noster in Latin. A beautiful sound in a beautiful place which may not have heard these words for a long time.
Entrance Antiphon:
"Cry out with joy to God, all the earth; O sing to the glory of His name. O render Him glorious praise. Alleluia".
MONDAY 1st May – St Joseph the Worker
Psalm 134: Ecce Nunc
"Behold, bless ye the Lord all ye servants of the Lord which by night stand in the House of the Lord. Lift up your hands in the sanctuary and bless the Lord".
In the afternoon I listen to some music and paint a little.
TUESDAY 2nd May – St Athanasius
I go to Mass at the Holy Rood. St Athanasius had a difficult life fighting Arianism. The passions stirred up by the dispute seem strange to us. Afterwards I canvas in Swallow.
Psalm 135: Laudate Nomen
"Praise ye the Lord, Praise ye the name of the Lord. Praise him, O ye servants of the Lord".
WEDNESDAY 3rd May – St Philip & St James the Apostles
I canvas in Middle Rasen and in the evening we have our adoption meeting in the delightful Holton le Moor village hall. It all goes well and everyone is very friendly. I have never known such a benign political environment.
Psalm 136: Confitemini
"O give thanks unto the Lord for he is good; for his mercy endureth for ever. O give thanks unto the God of Gods, for his mercy endureth for ever. O give thanks to the Lord of Lords, for his mercy endureth for ever".
THURSDAY 4th May
It is local election day for the county council.
I canvas in Glentworth, a pretty village nestling alongside Lincoln cliff edge then we spend a late evening and early hours at the count. The results are good, as good as they have ever been. We win six out of the eight wards and win back Scotter, lost in a by-election.
Psalm 137: Super Flamines – whenever one reads the words, one's heart lifts despite their sorrowful nature …
"By the rivers of Babylon,
There we sat down, yea, we wept
When we remembered Zion.
We hung our harps
Upon the willows in the midst of it.
For there those who carried us away captive asked of us a song,
And those who plundered us requested mirth".
FRIDAY 5th May
It feels like the day after General Election day, tired after a very late night.
Psalm 138: Confitebor Tibi
"I will praise thee with my whole heart; before the Gods I will sing praise unto thee".
SATURDAY 6th May
I walk around Covenham reservoir. It is nice seeing the dinghies but the concrete reservoir is bleak and huge 'No swimming' signs are up.
Psalm 139: Domine Probasti
"O Lord, You have searched me and known me.
You know my sitting down and my rising up;
You understand my thought afar off.
You comprehend my path and my lying down,
And are acquainted with all my ways".