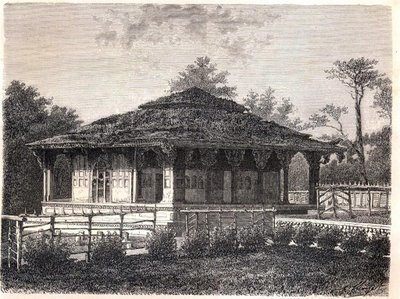 It is undeniably peaceful to live on a lake where only the splash of the paddle from canoes laden with produce disturbs the calm. Today we visited the Shalimar Bagh Gardens. Built in the seventeenth century by the Mughal Emperor Jahangir for his wife Nur Jahan, this is a garden of cool terraces with water channels leading the eye down the hillside.
I suppose that for Hindus and Muslims this is a vision of heaven. As I sat in the shade of the magnificent trees I was troubled by the thought that I might get bored spending eternity here. But that's the problem with Heaven, we can't imagine enjoying anything that lasts forever. Time must be suspended.
Winston Churchill explained the alternative view in an insightful way. "I will spend my first thousand years in Heaven painting." A Benedictine monk put it a different way. To him Heaven is an everlasting, continuous Ah! where we encounter the divine.
Later in the day we had a long hot climb up the Shankaracharya Hill to a Hindu temple. It was built during Jahangir's reign and is located on the site of on a much older, second century BC temple. I felt thoroughly exhausted when entering the temple but curiously un-replenished by the suffocating scale and smell of the place. So I looked at the Hindu pilgrims ringing the bell, entering barefoot and kneeling in prayer and was heartened by them.