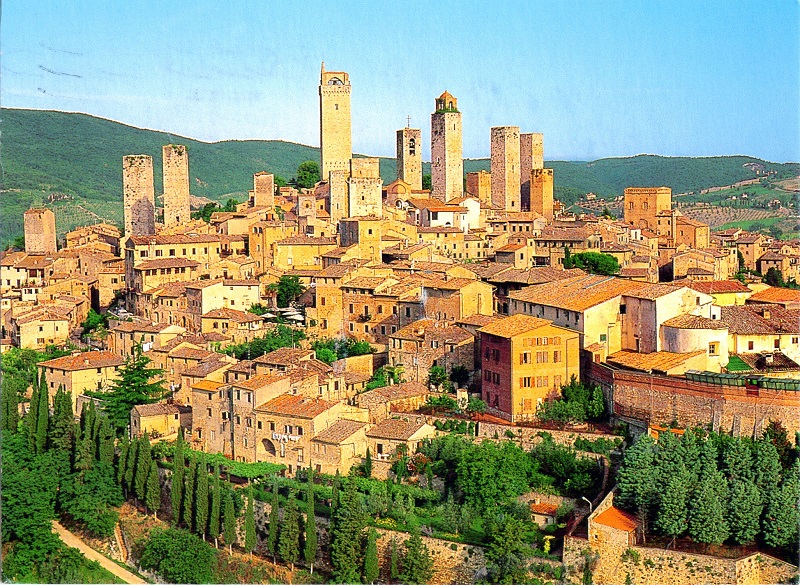 San Gimignano is a glorious little town. And in revenge, it is besieged by tourists, by the likes of me, the strangely anonymous.
Towers rise up in motley profusion, a tribute to vanity. What purpose do they serve? We were there are night. We touched another car while parking. A voluble argument ensued. Our Italian protagonist pointed exultantly to a blue mark on the front of our car. But his own car was green. "Voi machine e verde" had no response. We gave him our name and address and left him talking on his mobile phone. (To whom, I wonder).
Naturally the Duomo is closed at night, but on the side, by the ugly apparatus for collecting tickets, you can peer through the grill at the Annunciation. One presses one's face against the metal and looks upon this peaceful joyous scene. No one else in the piazza seemed interested.
The angel holds her palm up to Mary, as if warning her of her awe-ful fate. What is the angel pointing to warn of? We know of course, yet we wonder. The angel is confident, serene, almost imperious, bearing the message of her Master. Mary sits demurely in her comfortable Italian home. She looks downwards, pondering. What will her answer be…
The scene through the distant grill is so enticing that I could barely tear myself away. The grill is the world that separates our understanding. I went off down the ramp to buy my ice cream.